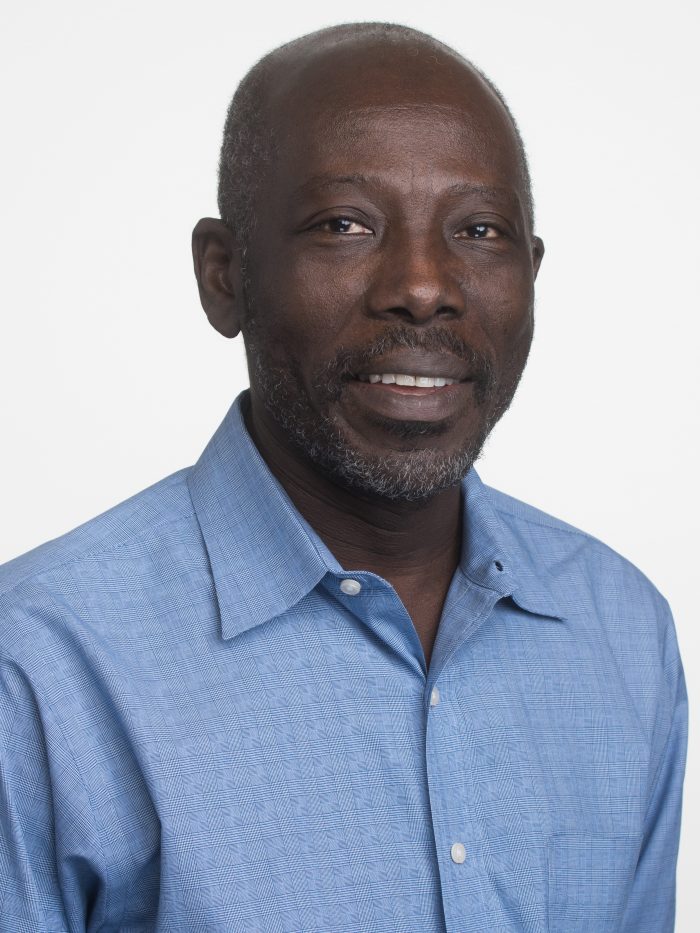 Dr. Eric Duku is an Assistant Professor (Part-Time) in the Department of Psychiatry and Behavioural Neurosciences at McMaster University. Eric is the main research methodologist/statistician on the Early Development Instrument (EDI) team led by Professor Magdalena Janus, who co-developed the EDI with Dr. Dan Offord. The EDI, completed by Kindergarten teachers, measures children's ability to meet age-appropriate developmental expectations. Eric is a co-Investigator with the Pathways in ASD study – a longitudinal multi-site study, examining developmental trajectories across a number of domains in children aged 2 and 4 years with an ASD diagnosis. He is also a co-Investigator and a collaborator on numerous grants with members of the Faculty of Health Sciences and Department of Psychiatry and Behavioural Neurosciences. Dr. Duku's focus is on the extent to which application of research and statistical methodologies can improve understanding in early child development (ECD) and observational/population-based research. This includes research into the measurement and statistical challenges associated with early child development research, determinants of healthy child development with emphasis on the factors that challenge the measurement invariance of constructs used in comparative studies in ECD research.
Tell us about your research at the Offord Centre in layman terms.
Dr. Duku: My underlying research is making sure that we are measuring what we think we are measuring. For example, if you want to find out if something is one-foot-long, then you want to make sure you have an impartial ruler that can measure in inches and feet. Each participant must be given the same instructions, understand the instructions the same way, be consistent and follow the instructions in the same way. Most importantly, the measurement must have the same meaning for all persons. My work at the Offord Centre is primarily with the Early Development Instrument (EDI) team, led by Professor Magdalena Janus. Working with the EDI Team, we are interested in the social determinants of developmental health of children at school entry, locally, nationally and internationally. I am a co-investigator on the Pathways in ASD study and I work with faculty, students and postdocs at the Offord Centre to resolve statistical and methodological challenges.
Why is this an important area to research?
Dr. Duku: Measurement is an important area of research as measurement is fundamental to all research, needs to be performed properly, and needs to be repeatable so we can confidently report on the findings based on these measurements. We cannot effect change if we are not confident in what we have measured. It is especially important for child development research because typically, information on the children is obtained from caregivers or teachers. We therefore need to ensure that any measurement we employ has the same meaning to all. Our work with children up to their first year of school is important as we can use the social determinants of health framework, to help identify ways that we can help change or modify their later life outcomes.
How does your research positively impact the community?
Dr. Duku: It has positively influenced the community in different ways. Some of our work has led to reading programs in communities and that helped children who are vulnerable in some areas of early development at school entry to meet provincial standards in later grades. Other communities and partners have also used our research to develop programs that effect children's development in positive ways.
How has the Offord Centre helped support you as a core member?
Dr. Duku: I have been a core member for almost 10 years. The best part of being a member of the Offord Centre is the opportunity to work with my colleagues and learn from each other. I personally believe in life-long learning and enjoy learning from everyone – learners, colleagues, and faculty. I feel that by working together, we can make differences in the lives of the children as well as their families and communities.
Tell us about why you chose your research area?
Dr. Duku: I believe I was guided or led to my research area, not the other way around in an interesting journey. My journey so far has been interesting. My childhood mentor encouraged me to study mathematics because it is the foundation of every academic discipline and I studied mathematics for my undergraduate degree. After completing my undergraduate degree, I studied population studies and became interested in mathematical demography, eventually shifting my interest to medical statistics or biostatistics. I came to McMaster University and studied in the graduate program in Statistics chaired by Prof. Charlie Dunnett. After graduation, I worked as a Research Biostatistician under the mentorship of Professor Charlie Goldsmith focusing on clinical trials for approximately 10 years. After that, I came to the Offord Centre to work in Early Child Development and have been involved in population-based research and studies using other research designs. I took the position because of my interest in human behaviour and the opportunity to be involved in research that helps children.
Over the last decade or so, my interest in measurement has grown due to the use of various instruments for studies. My primary research focus is in the measurement and statistical challenges associated with early child development research. This includes determinants of healthy child development with emphasis on measurement invariance and measurement equivalence in early child development research.
How did Dan Offord influence your research or inspire you?
Dr. Duku: I was fortunate enough to meet and work with Dr. Dan Offord when I joined the Offord Centre. He was a tremendous influence on my life both professionally and personally. He invited my family and me to visit Christie Lake camp in the summer to spend time with him and the children. It was a revelation and a very meaningful experience for us as we learned about his work at the camp with children from low-income families in Ottawa. Having the opportunity to experience and observe the way Dr. Dan interacted with those involved with the camp was a once in a lifetime opportunity. He truly put his heart and soul into his work. This has inspired me to do the same in my work and to ensure that the research I am involved in is meaningful and relevant to the children and their families.
What is your favourite quote?
Dr. Duku: I have a quote from one of my favourite authors, Richard Bach. "Learning is finding out what you already know. Doing is demonstrating that you know it. Teaching is reminding others that they know just as well as you."