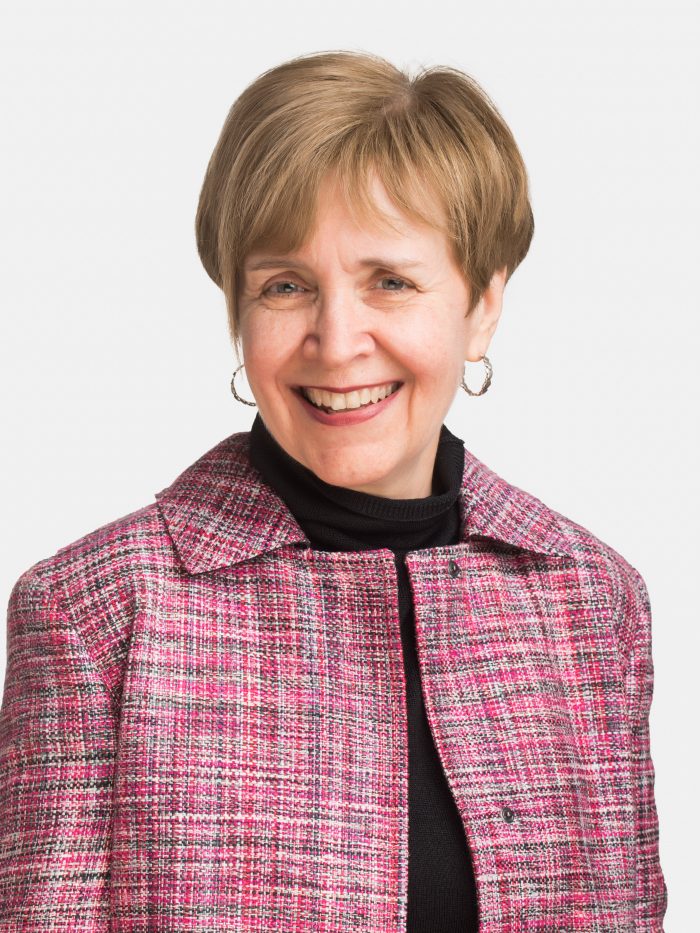 Dr. Harriet MacMillan is one of the core members of the Offord Centre. She is a psychiatrist and pediatrician conducting family violence research. Dr. MacMillan is a Distinguished University Professor in the Departments of Psychiatry and Behavioural Neurosciences, and of Pediatrics at McMaster University with associate membership in the Department of Health Research, Methods, Evidence and Impact. Her research focuses on the epidemiology of violence against children and women and determining ways to prevent family violence and associated impairment. Harriet's work in this area have been recognized with appointment as a member of the Order of Canada in 2016.
Tell us about your research at the Offord Centre in layman terms.
Dr. MacMillan: First of all, when we refer to my research, it's really our research, because I work with a wonderful team of colleagues and students on the topic of family violence. Family violence is any type of violence that occurs within the family including physical abuse, sexual abuse, emotional abuse, neglect and exposure to intimate partner violence. My research focuses on understanding family violence from a public health perspective, which means addressing questions beginning with, how common is it? What are risk and protective factors for the types of family violence? How do we develop approaches to prevent family violence as well as prevent the impairment associated with it and its recurrence when it has already happened? When we identify effective interventions, how do we implement them? That basically describes the framework of the research I'm involved with. Family violence extends across the lifespan; the two main types of family violence that my research focuses on include child maltreatment and intimate partner violence.
Why is this an important area to research?
Dr. MacMillan: This is hugely important because of the impact of family violence on all aspects of health. We know increasingly that family violence influences physical health, mental health and health and wellbeing more broadly. I think of it as also having effects on social and cognitive aspects of health. It has such a major impact and is so common, which is why I think it's important to conduct research in this area. Until fairly recently, there weren't many people focusing on this field of research.
What are the potential implications of your research?
Dr. MacMillan: I hope that the research we're conducting brings new understanding to what a widespread problem this is, how we can prevent it and how we can intervene to reduce the problems for those who have experienced it.
How has the Offord Centre helped support you as a core member?
Dr. MacMillan: The Offord Centre has been tremendous in its support for me personally. First of all, the collegiality, mentorship and the opportunities for collaboration have been absolutely superb. It's really impacted all aspects of my research in that I collaborate with various members, they bring expertise to family violence research even if they are not working in the area themselves and I learn a great deal from them. They also bring that expertise in their interactions with students and other colleagues on our team.
Tell us about why you chose your research area?
Dr. MacMillan: This is the research area I decided to pursue due to the importance of family violence and its influence on health. When I was a resident in pediatrics at SickKids Hospital Toronto, I was seeing infants and children where abuse or neglect was suspected. My fellow trainees and I would contact one of the child protection agencies according to our mandatory reporting responsibilities. I would see children who were experiencing a broad range of health problems related to abuse and neglect and would ask myself, "What happens to these children once we report our concerns to these agencies?" . "How do we make sure this doesn't happen to them again? How do we make sure that they are safe, and what else can we do besides contact the child protection agencies?" This is when I realized there is very little known about how to help these children and ensure maltreatment doesn't recur. That's when I decided this is the research area I needed to focus on. My first few years in research focused almost exclusively on child maltreatment, but then I began to see the strong overlap between the types of child maltreatment that were historically first identified (physical abuse, sexual abuse, neglect and emotional abuse) and intimate partner violence between children's caregivers. This was the time I decided it was important to expand the research I was doing to include children's exposure to intimate partner violence, as well as, intimate partner violence in general.
How did Dr. Dan Offord influence your research or inspire you?
Dr. MacMillan: Dr. Offord had a tremendous influence on me personally and on my research. He had a wonderful capacity for listening; I still remember the first day I met him, he asked me what I would like to do with my research and to explain to him why it's important. I told him about my idea of doing research in the area of child maltreatment and he said that although he didn't know anything about this area, he was available to help me pursue what I want to accomplish in this area. He had strong enthusiasm and was very supportive, which helped me feel that I could actually pursue a career in research. He gave me the confidence to go ahead with what I saw as being important for the field and continued to mentor me throughout the next stage of my research career.
When you were a kid, what did you want to be when you grew up and why?
Dr. MacMillan: I knew that I wanted to work in the healthcare field very early on, however I wasn't exactly sure of the specific type of work that I wanted to pursue. I knew I wanted to help people who were experiencing some type of illness. My father was a pediatrician and my mother was a nurse; their love of working in the healthcare field had a huge influence on my decision to become a physician.