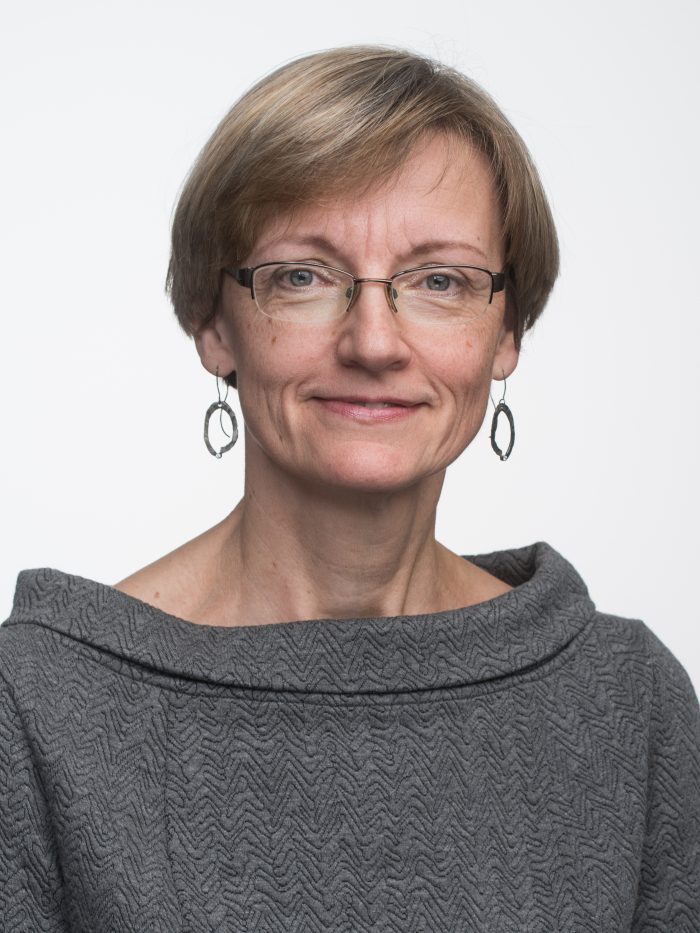 Dr. Magdalena Janus is one of the core members of the Offord Centre and a professor in the Department of Psychiatry and Behavioural Neurosciences. Dr. Janus also holds Ontario's Children Secretariat Chair in Early Childhood Development and is an Affiliate Associate Professor in the School of Population and Public Health at the University of British Columbia. She earned a Ph.D. in behavioural sciences from Cambridge University. Her doctoral research involved studying the nature of relationships among young human and non-human primates. Since coming to McMaster University, Dr. Janus has mainly focused her research on early child development.
Tell us about your research at the Offord Centre in layman terms.
Dr. Janus: Broadly speaking, my team is investigating social determinants of children's developmental health at school entry. We define developmental health as all aspects of development including cognitive, behavioural, emotional and social. We're not measuring exclusively either cognitive, behavioural, or physical health, because we believe developmental health encompasses all of these. We're researching to what extent developmental health is associated with contextual factors, such as where children have been living up to that stage, and to what extent they may be affected by the type of family environment and neighbourhood they have been exposed to. We are also investigating individual characteristics, such as whether they are male or female and whether they speak a language other than one of the official Canadian languages. It's a combination of psychology and epidemiology. We have large databases that includes children from pretty much every place in Canada, covering almost 98% of 5 year olds. What we're finding is that child development at school entry is indeed associated with the socioeconomic factors that children are exposed to, even at the neighbourhood level. The patterns vary slightly depending on gender, language background and other characteristics that we are able to explore.
We also research the link between children's developmental health status in kindergarten with later development and academic achievement. This information is known to a certain extent from individually based sample studies, but what we have now shown in a number of jurisdictions with population level data is that development in kindergarten is a very powerful predictor of children's later social behaviour, academic achievement and even health.
Why is this an important area to research?
Dr. Janus: Our research is important at a policy level. One of the major changes that our results contributed to was the introduction of full day kindergarten in Ontario. It was pretty clear from other data as well as ours that children who live in less advantaged situations would benefit from organized early education such as what junior kindergarten can provide on a fuller time basis. It's also important at the individual and classroom level. Being aware of what are the key aspects of the first five years of life that may have a long-term impact on children's development provides an opportunity to keep an eye on children in the classroom, environment and home to react quickly if these factors make a difference. On average, we know that girls have better developmental status in kindergarten than boys. At the group level, findings like these mean that if you go into a kindergarten classroom and you pick a girl and a boy, there's no guarantee that the girl will have better developmental status than that of a boy. It holds true for averages between large groups, but not for any individual child. In Ontario, children have to turn 4 by the end of December in order to enter junior kindergarten that year. We have very young children in our JK classrooms and even though the data are collected in the second year of kindergarten, we still know that children who are born in the later part of the year are less likely to do as well as children who are born in the earlier part of the year. Depending on your group of 4-6 year olds, you can be on the lookout for potential difficulties, and you also need to support children who are ahead of the curve. All of these things are very practical lessons that could be used based on our evidence.
How does your research positively impact the community?
Dr. Janus: Our research raises awareness of the importance of the early years and the importance of understanding the integral role teachers play. For example, there was a study that we did a few years back with the Educational Quality and Accountability Office of Ontario (EQAO) that showed that moving schools was a risk factor for children to do worse in grade 3. I know that people think moving schools in those early grades doesn't matter and yet moving schools, especially frequent moves, is probably a sign of something else going on in the family. This is another practical implication that teachers can look for in their classrooms. Teachers who see children at this cusp of early development and school entry can potentially make a big difference in terms of shaping their later trajectories.
How has the Offord Centre helped support you as a core member?
Dr. Janus: As I meet people from other centers and workplaces, I realize how lucky we are to work at the Offord Centre, because there's such a collegiality and support for each other. I come to work happy that I'm here. It's a pleasure to be at work and I don't know how many people can say that. I know that if I approach anybody who works here, no matter how busy they are, they'll be happy to help me through a problem or point me in the right direction. There is a comfort here of being appreciated and having good relationships with your colleagues and teammates.
Who is the person or people who have most influenced your life?
Dr. Janus: The key person in my life, both professional research and personal was my Professor who was my mentor when I was doing my PhD, Prof. Robert Hinde. He was a Professor of Animal Behaviour at Cambridge University. I came to know him when I was at Cambridge, he was incredibly open to mentorship and willing to share his wisdom with others. He later became a life-long friend. He was very generous to me and it was his support that kept me going. His influence shaped my love of inquiry. Robert made me realize that research was not just about writing papers or having degrees, but about always learning more, reading more, and trying to get to the bottom of the answers. At the same time he understood careers were important and was always there if I needed his advice. Robert moved from studying animal behaviour, to children, philosophy, and writing about peace movements. Up to a point, I followed a similar path of studying zoology and then studying children. I felt very comfortable moving through those stages of my research because of his influence and his understanding.
How did Dan Offord influence your research or inspire you?
Dr. Janus: It was through Dr. Robert Hinde's recommendation that I had the opportunity to meet Dr. Dan Offord. Dan was a scientist, as well as a clinician who understood troubled children. I was incredibly lucky when I started working with Dan, as he was very understanding in terms of my personal and professional life. He taught me to choose research that was worth doing, rather than just follow standard steps of an academic career. I was in awe of his ability to be true to what he believed in, and an ability to synthesize any learned knowledge with a deep understanding. I will always aspire to be like Dan as a person and a research scientist. In my own academic work, I am trying to emulate the behaviour of both Robert and Dan, not only for research projects qualities, but also the way they offered mentorship.
What is your favourite quote?
Dr. Janus: My favourite quote is from my high school, which is one of the oldest high schools in Europe and the motto was "Semper in Altum", which meant Always Upwards. It was short, yet a strong reminder to always keep going despite any obstacles.