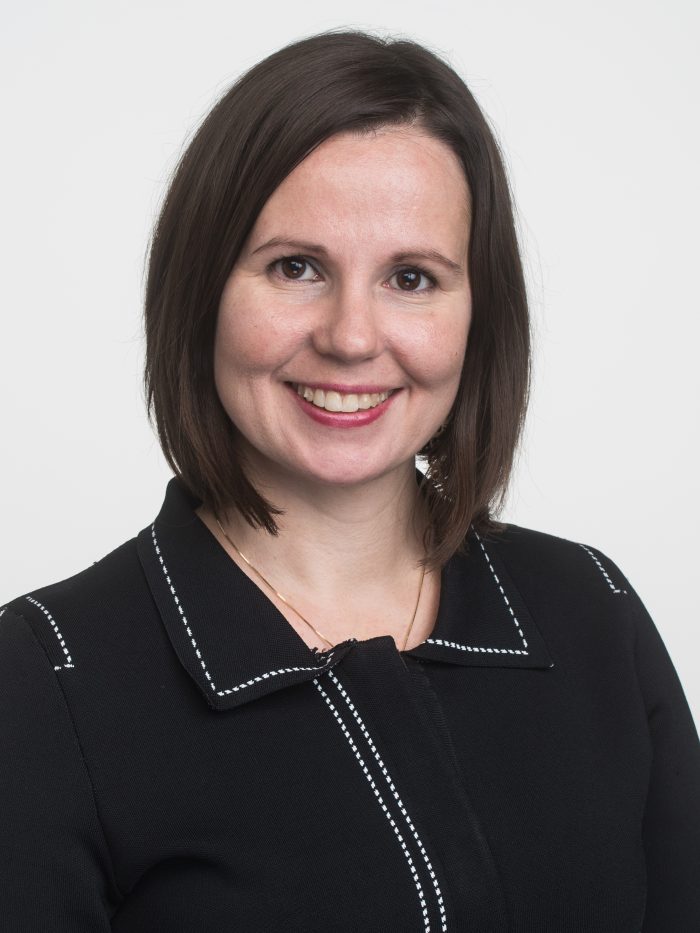 Dr. Terry Bennett is a child psychiatrist at McMaster Children's Hospital, a Core Member of the Offord Centre for Child Studies and an Assistant Professor in the Department of Psychiatry and Behavioural Neurosciences. She is also the Co-Director for the McMaster Autism Research Team.
Tell us about your research at the Offord Centre in layman terms.
Dr. Bennett: I have two major types of research that I do. Through my clinical work as a Child Psychiatrist, I realized that by the time kids are seeing me in my clinic or in the emergency room, too much time has already passed. Very often, parents or caregivers of children as young as 6 year old would say they have been concerned for years – this is too long for kids and families! I started to develop an interest in Prevention Research. Right now, we have a large prevention study called "Making the Race Fair", which is evaluating a program called "the Family Check-Up" and whether it can be helpful in preventing the start of mental health problems in kids age 2-4 and their families. We're the first team in Canada to bring the Family Check-Up to Canada from the United States and we're studying its effects in different groups of kids. We're also starting to look at the Family Check-Up as a helpful program of care for families and kids with Autism Spectrum Disorder, and for children and youth with more severe mental health problems.
My second area of focus is longitudinal research where we follow groups of kids and families over a long period of time to see how they grow and develop. I'm one of the McMaster lead investigators for the "Pathways in ASD" study, which is a longitudinal study of over 400 kids diagnosed in their toddler years with Autism Spectrum Disorder who we have been tracking and talking to into their late teenage years. It's important for us to be able to understand risk factors and protective factors for healthier development and general child and family well-being as young children with ASD grow up into adulthood.
Why is this an important area to research?
Dr. Bennett: It's really important for a few reasons. At the Offord Centre, we have a lot of expertise relating to a variety of different factors of child development which includes genetic and brain factors, the social determinants of health, and how they affect kids' growth and development over time. It's important that we apply this understanding so we can offer assistance earlier to kids and their families to prevent mental health problems before they become severe and chronic. Children having mental health problems very early in their lives are one of the top risk factors for persistent difficulties into adulthood – like having an "accumulative drag" on children's development and well-being over time. We know a lot about the important factors that can affect kids' healthy development, so we need to develop interventions or programs that can help us shift these. We also need to find out where the best places are to deliver these programs, for example in schools, mental health clinics, or homes. Where you choose to deliver these programs can make a big impact.
What are the potential implications of your research?
Dr. Bennett: First of all, we hope to shift what we call the "burden of suffering" of child mental health problems. We want to decrease the burden of suffering at the level of each individual child and individual family, as well as at the population level. We want to decrease the prevalence of 1 in 5 kids with significant mental health problems. The second implication we are addressing is the fact that many of these kids do not have access to these services in a timely manner. By thinking about how we can shift towards more prevention models that could be delivered in the community in helpful ways, we will be able to increase the number of kids getting help in a timely manner before problems like anxiety, sadness and conduct ("acting out") become chronic and entrenched. I work with a team of researchers at the Offord Centre and we are all interested in studying what works best for whom and why. If we understand why programs of care work for children, then it'll be easier to also adapt them in different ways and while maintaining the important factors.
How has the Offord Centre helped support you as a Core Member?
Dr. Bennett: I've been at the Offord Centre since I was a medical student. First of all, we are really lucky to have a strong and friendly collegial environment. It makes me happy to come to work every day. Secondly, people are really good at sharing their expertise, so I learn from my colleagues every day. Regardless of your background, you cannot be an expert in everything. So many different factors influence child health and development, so you need to work with a variety of experts to ensure you have a well-rounded understanding. At the Offord Centre, we have experts in population health like Dr. Kathy Georgiades and Dr. Magdalena Janus looking at the big level factors that address kids' health, and other researchers like Dr. Andrea Gonzalez, Dr. Ellen Lipman and Dr. Harriet MacMillan who look at how extreme family stressors affect children. We have other researchers that are very specifically focused like Dr. Stelios Georgiades in Autism. We also have experts in research methodology that know how to design studies that answer the questions that need answering, for example, Dr. Eric Duku is an expert in statistics. We have other experts in qualitative research like Dr. Susan Jack and Dr. Melissa Kimber. I don't have to be an expert in all of these areas in order to create important research programs, because I can rely on input from my colleagues. The third reason is that we try to focus on questions that really matter. We're strongly focused on research integrity and research that matters in the short term to Canadian children and their families. It makes you feel like you're doing things for the right reasons.
How did Dan Offord influence your research or inspire you?
Dr. Bennett: I first met Dan Offord when I was a medical student. Initially, I heard him on the radio talking about teaching kids swimming at his summer camp. He talked about how kids who live in low-income neighbourhoods really don't have a fair start – particularly, they don't have the same access to recreational programs. This statement really resonated with me as I always knew how lucky I had been to have great coaches and teachers growing up. I think Dan's essential philosophy was that it is really important all kids have a fair start, which is something that really made a lot of sense to me and my life. When I met him, he connected me to a lot of important Offord Centre researchers whom I still work with today, including Dr. Michael Boyle, Dr. Harriet MacMillan and Dr. Ellen Lipman. His focus in research really inspired me and everything about his clinical and research life really revolved around the essential question of how we can "make the race fair" for kids in Canada.
How has working with your research participants influenced you or your future research aspirations?
Dr. Bennett: As a child psychiatrist, I work with children and youth who struggle with early onset neurodevelopmental differences, such as autism or ASD and I have learned so much from them about celebrating uniqueness and diversity. Caregivers and parents have taught me about "mindful parenting" in families – accepting your child where they are at each day, supporting them as they grow up in their very unique and important ways, and knowing that your own adult life will change in new and unpredictable ways.
Working in the mental health emergency room caused me to think deeply about the experience of children and youth in our communities. I learned from youth and families that many children with difficulties go unnoticed until they reach their teenage years. I think working with my patients has inspired me in a lot of different ways. When I'm working in the emergency room, I ask teenagers when their problems started. It has really struck me that so many of them answer that they had really hard time with their emotions around the time of puberty, which is roughly grade 6 or 7. Often their parents or caregivers will say that they have been worried for years but the mental health system did not "notice them" until they show up in the emergency room (ER) at a time of crisis. Typically, the ER is not the best fit for the complexity of their problems. This really influenced me as a researcher to think about prevention and came back again to the idea of making the race fair for kids who have early developmental and mental health problems. It is very easy for these children to fall behind, especially when their environments don't meet their needs. Having children with difficulties go unnoticed puts their mental health at risk, which is unfair to them. This is why we do the work that we do here.
What is your favourite quote?  
Dr. Bennett: "Do not now seek the answers, which cannot be given you because you would not be able to live them. And the point is, to live everything. Live the questions now. Perhaps you will then gradually, without noticing it, live along some distant day into the answer." Rainer Maria Rilke, Letters to a Young Poet, 1903