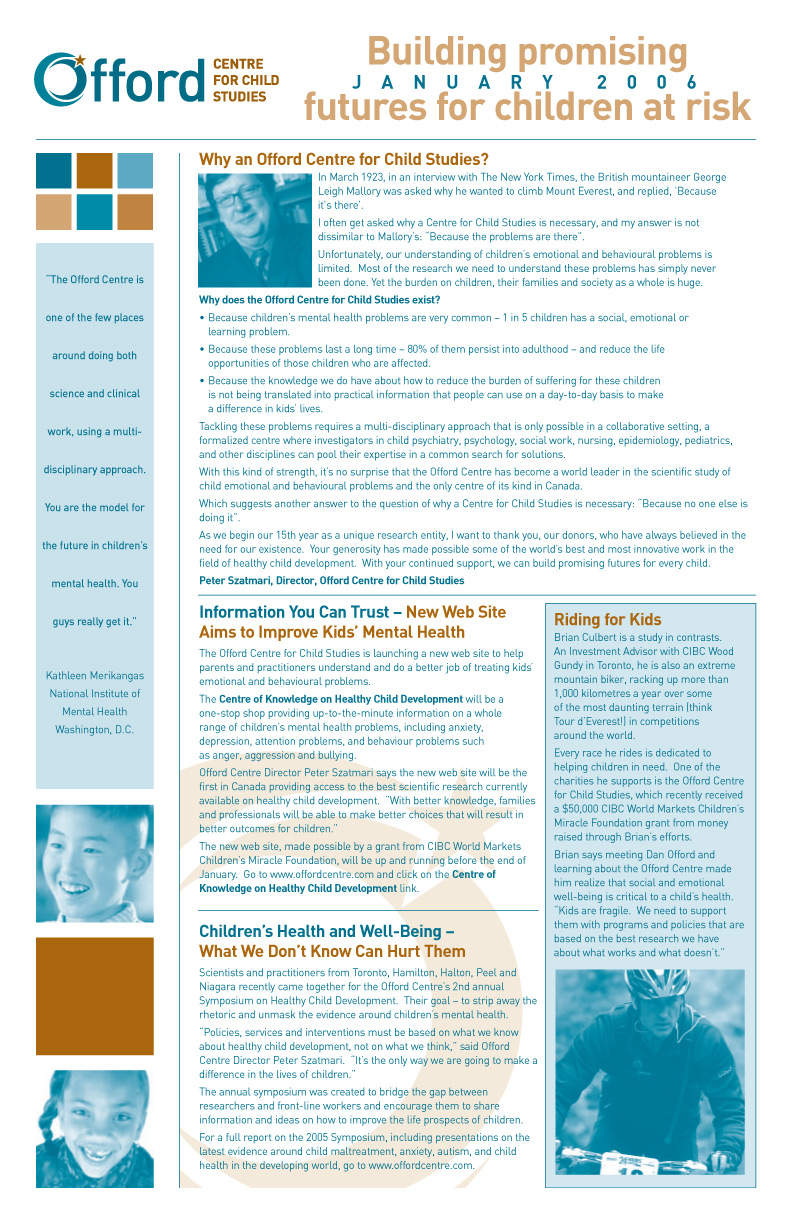 January 1, 2006
Why an Offord Centre for Child Studies?
In March 1923, in an interview with The New York Times, the British mountaineer George Leigh Mallory was asked why he wanted to climb Mount Everest, and replied, 'Because it's there'.
I often get asked why a Centre for Child Studies is necessary, and my answer is not dissimilar to Mallory's: "Because the problems are there".
Unfortunately, our understanding of children's emotional and behavioural problems is limited. Most of the research we need to understand these problems has simply never been done. Yet the burden on children, their families and society as a whole is huge.
Why does the Offord Centre for Child Studies exist?
Because children's mental health problems are very common – 1 in 5 children has a social, emotional or learning problem.
Because these problems last a long time – 80% of them persist into adulthood – and reduce the life opportunities of those children who are affected.
Because the knowledge we do have about how to reduce the burden of suffering for these children is not being translated into practical information that people can use on a day-to-day basis to make a difference in kids' lives.
Tackling these problems requires a multi-disciplinary approach that is only possible in a collaborative setting, a formalized centre where investigators in child psychiatry, psychology, social work, nursing, epidemiology, pediatrics, and other disciplines can pool their expertise in a common search for solutions.
With this kind of strength, it's no surprise that the Offord Centre has become a world leader in the scientific study of child emotional and behavioural problems and the only centre of its kind in Canada.
Which suggests another answer to the question of why a Centre for Child Studies is necessary: "Because no one else is doing it".
As we begin our 15th year as a unique research entity, I want to thank you, our donors, who have always believed in the need for our existence. Your generosity has made possible some of the world's best and most innovative work in the field of healthy child development. With your continued support, we can build promising futures for every child.
Peter Szatmari, Director, Offord Centre for Child Studies
Categorised in: