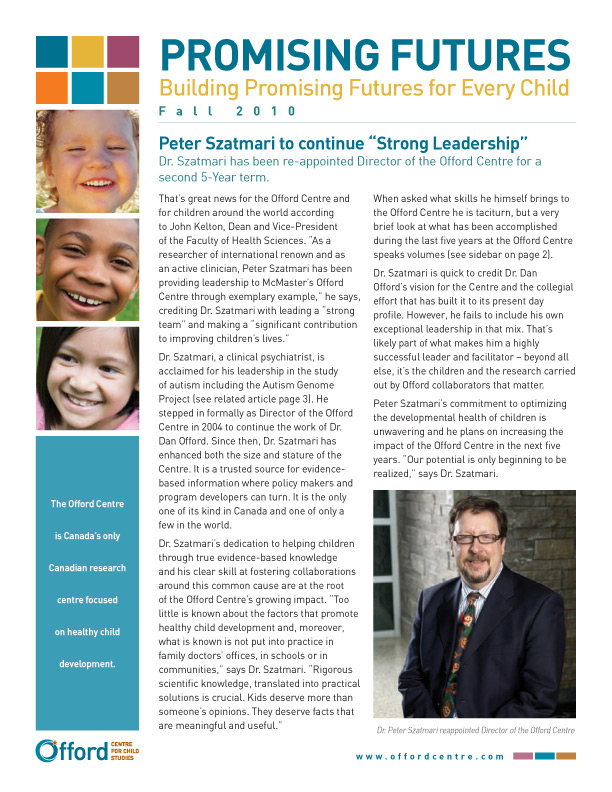 November 1, 2010
Peter Szatmari to continue "Strong Leadership"
Dr. Szatmari has been re-appointed Director of the Offord Centre for a second 5-Year term.
That's great news for the Offord Centre and for children around the world according to John Kelton, Dean and Vice-President
of the Faculty of Health Sciences. "As a researcher of international renown and as an active clinician, Peter Szatmari has been providing leadership to McMaster's Offord Centre through exemplary example," he says, crediting Dr. Szatmari with leading a "strong team" and making a "significant contribution to improving children's lives."
Dr. Szatmari, a clinical psychiatrist, is acclaimed for his leadership in the study of autism including the Autism Genome Project (see related article page 3). He stepped in formally as Director of the Offord Centre in 2004 to continue the work of Dr. Dan Offord. Since then, Dr. Szatmari has enhanced both the size and stature of the Centre. It is a trusted source for evidence- based information where policy makers and program developers can turn. It is the only one of its kind in Canada and one of only a few in the world.
Dr. Szatmari's dedication to helping children through true evidence-based knowledge and his clear skill at fostering collaborations around this common cause are at the root of the Offord Centre's growing impact. "Too little is known about the factors that promote healthy child development and, moreover, what is known is not put into practice in family doctors' offices, in schools or in communities," says Dr. Szatmari. "Rigorous scientific knowledge, translated into practical solutions is crucial. Kids deserve more than someone's opinions. They deserve facts that are meaningful and useful."
When asked what skills he himself brings to the Offord Centre he is taciturn, but a very brief look at what has been accomplished during the last five years at the Offord Centre speaks volumes (see sidebar on page 2).
Dr. Szatmari is quick to credit Dr. Dan Offord's vision for the Centre and the collegial effort that has built it to its present day profile. However, he fails to include his own exceptional leadership in that mix. That's likely part of what makes him a highly successful leader and facilitator – beyond all else, it's the children and the research carried out by Offord collaborators that matter.
Peter Szatmari's commitment to optimizing the developmental health of children is unwavering and he plans on increasing the impact of the Offord Centre in the next five years. "Our potential is only beginning to be realized," says Dr. Szatmari.
Categorised in: