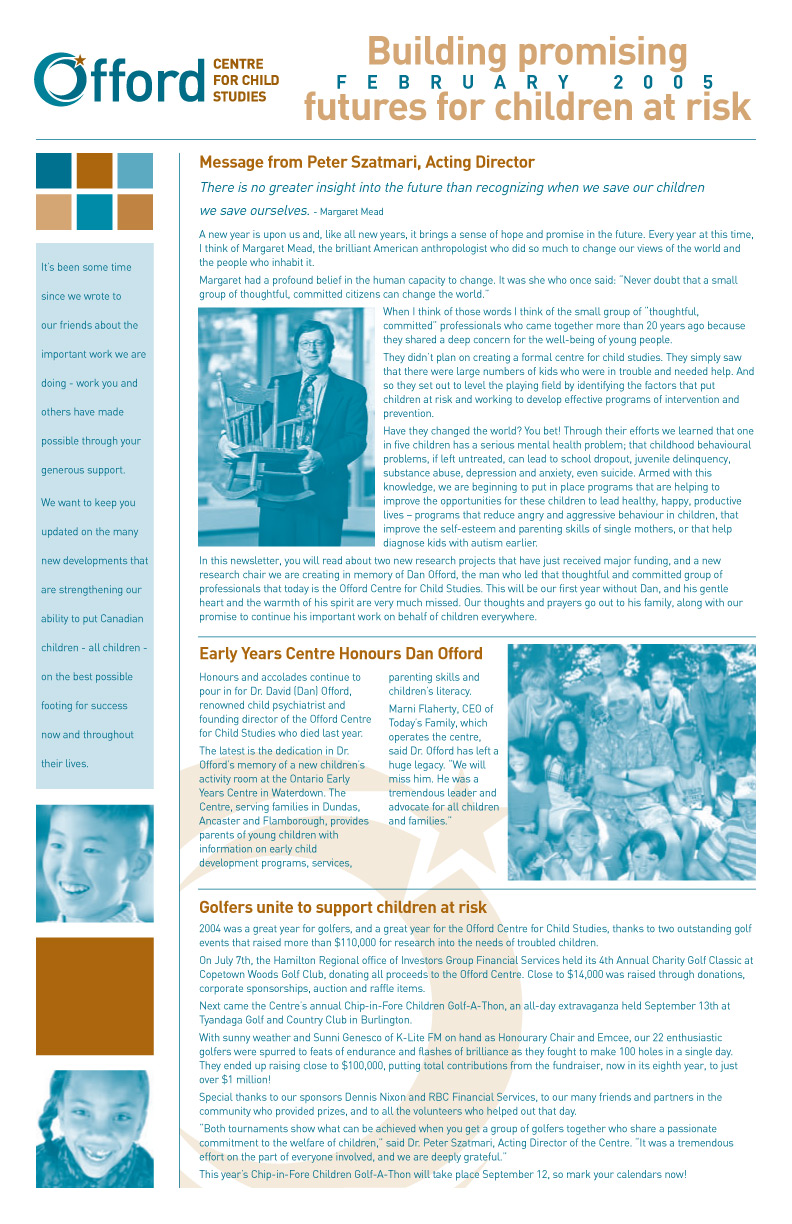 February 1, 2005
Message from Peter Szatmari, Acting Director
There is no greater insight into the future than recognizing when we save our children we save ourselves. – Margaret Mead
A new year is upon us and, like all new years, it brings a sense of hope and promise in the future. Every year at this time, I think of Margaret Mead, the brilliant American anthropologist who did so much to change our views of the world and the people who inhabit it.
Margaret had a profound belief in the human capacity to change. It was she who once said: "Never doubt that a small group of thoughtful, committed citizens can change the world."
When I think of those words I think of the small group of "thoughtful, committed" professionals who came together more than 20 years ago because they shared a deep concern for the well-being of young people.
They didn't plan on creating a formal centre for child studies. They simply saw that there were large numbers of kids who were in trouble and needed help. And so they set out to level the playing field by identifying the factors that put children at risk and working to develop effective programs of intervention and prevention.
Have they changed the world? You bet! Through their efforts we learned that one in five children has a serious mental health problem; that childhood behavioural problems, if left untreated, can lead to school dropout, juvenile delinquency, substance abuse, depression and anxiety, even suicide. Armed with this knowledge, we are beginning to put in place programs that are helping to improve the opportunities for these children to lead healthy, happy, productive lives – programs that reduce angry and aggressive behaviour in children, that improve the self-esteem and parenting skills of single mothers, or that help diagnose kids with autism earlier.
In this newsletter, you will read about two new research projects that have just received major funding, and a new research chair we are creating in memory of Dan Offord, the man who led that thoughtful and committed group of professionals that today is the Offord Centre for Child Studies. This will be our first year without Dan, and his gentle heart and the warmth of his spirit are very much missed. Our thoughts and prayers go out to his family, along with our promise to continue his important work on behalf of children everywhere.
Categorised in: