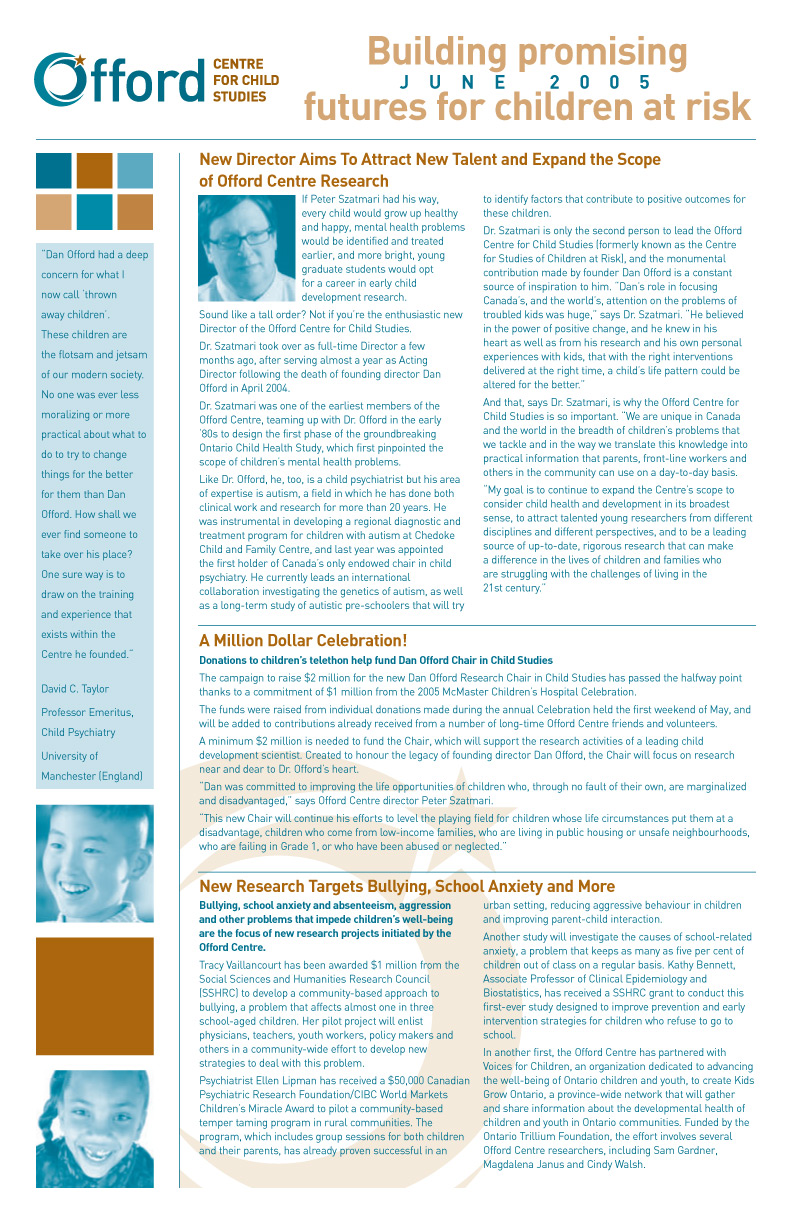 June 1, 2005
New Director Aims To Attract New Talent and Expand the Scope of Offord Centre Research
If Peter Szatmari had his way, every child would grow up healthy and happy, mental health problems would be identified and treated earlier, and more bright, young graduate students would opt for a career in early child development research.
Sound like a tall order? Not if you're the enthusiastic new Director of the Offord Centre for Child Studies.
Dr. Szatmari took over as full-time Director a few months ago, after serving almost a year as Acting Director following the death of founding director Dan Offord in April 2004.
Dr. Szatmari was one of the earliest members of the Offord Centre, teaming up with Dr. Offord in the early '80s to design the first phase of the groundbreaking Ontario Child Health Study, which first pinpointed the scope of children's mental health problems.
Like Dr. Offord, he, too, is a child psychiatrist but his area of expertise is autism, a field in which he has done both clinical work and research for more than 20 years. He was instrumental in developing a regional diagnostic and treatment program for children with autism at Chedoke Child and Family Centre, and last year was appointed the first holder of Canada's only endowed chair in child psychiatry. He currently leads an international collaboration investigating the genetics of autism, as well as a long-term study of autistic pre-schoolers that will try to identify factors that contribute to positive outcomes for these children.
Dr. Szatmari is only the second person to lead the Offord Centre for Child Studies (formerly known as the Centre for Studies of Children at Risk), and the monumental contribution made by founder Dan Offord is a constant source of inspiration to him. "Dan's role in focusing Canada's, and the world's, attention on the problems of troubled kids was huge," says Dr. Szatmari. "He believed in the power of positive change, and he knew in his heart as well as from his research and his own personal experiences with kids, that with the right interventions delivered at the right time, a child's life pattern could be altered for the better."
And that, says Dr. Szatmari, is why the Offord Centre for Child Studies is so important. "We are unique in Canada and the world in the breadth of children's problems that we tackle and in the way we translate this knowledge into practical information that parents, front-line workers and others in the community can use on a day-to-day basis.
"My goal is to continue to expand the Centre's scope to consider child health and development in its broadest sense, to attract talented young researchers from different disciplines and different perspectives, and to be a leading source of up-to-date, rigorous research that can make a difference in the lives of children and families who are struggling with the challenges of living in the 21st century."
Categorised in: