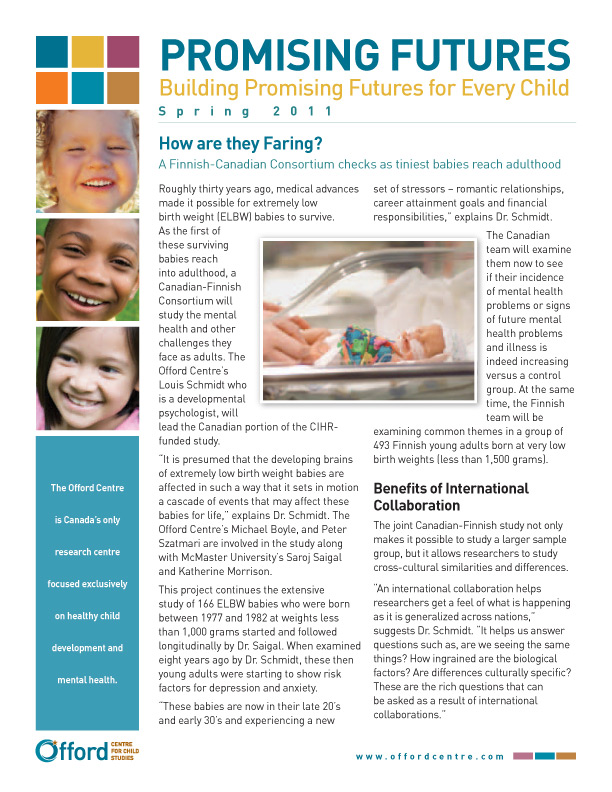 April 1, 2011
How are they Faring?
A Finnish-Canadian Consortium checks as tiniest babies reach adulthood
Roughly thirty years ago, medical advances made it possible for extremely low birth weight (ELBW) babies to survive. As the first of these surviving babies reach into adulthood, a Canadian-Finnish Consortium will study the mental health and other challenges they
face as adults. The Offord Centre's Louis Schmidt who is a developmental psychologist, will lead the Canadian portion of the CIHR- funded study.
"It is presumed that the developing brains of extremely low birth weight babies are affected in such a way that it sets in motion a cascade of events that may affect these babies for life," explains Dr. Schmidt. The Offord Centre's Michael Boyle, and Peter Szatmari are involved in the study along with McMaster University's Saroj Saigal and Katherine Morrison.
This project continues the extensive study of 166 ELBW babies who were born between 1977 and 1982 at weights less than 1,000 grams started and followed longitudinally by Dr. Saigal. When examined eight years ago by Dr. Schmidt, these then young adults were starting to show risk factors for depression and anxiety.
"These babies are now in their late 20's and early 30's and experiencing a new set of stressors – romantic relationships, career attainment goals and financial responsibilities," explains Dr. Schmidt.
The Canadian team will examine them now to see if their incidence of mental health problems or signs of future mental health problems and illness is indeed increasing versus a control group. At the same time, the Finnish team will be examining common themes in a group of 493 Finnish young adults born at very low birth weights (less than 1,500 grams).
Benefits of international Collaboration
The joint Canadian-Finnish study not only makes it possible to study a larger sample group, but it allows researchers to study cross-cultural similarities and differences.
"An international collaboration helps researchers get a feel of what is happening as it is generalized across nations," suggests Dr. Schmidt. "It helps us answer questions such as, are we seeing the same things? How ingrained are the biological factors? Are differences culturally specific? These are the rich questions that can be asked as a result of international collaborations."
Categorised in: