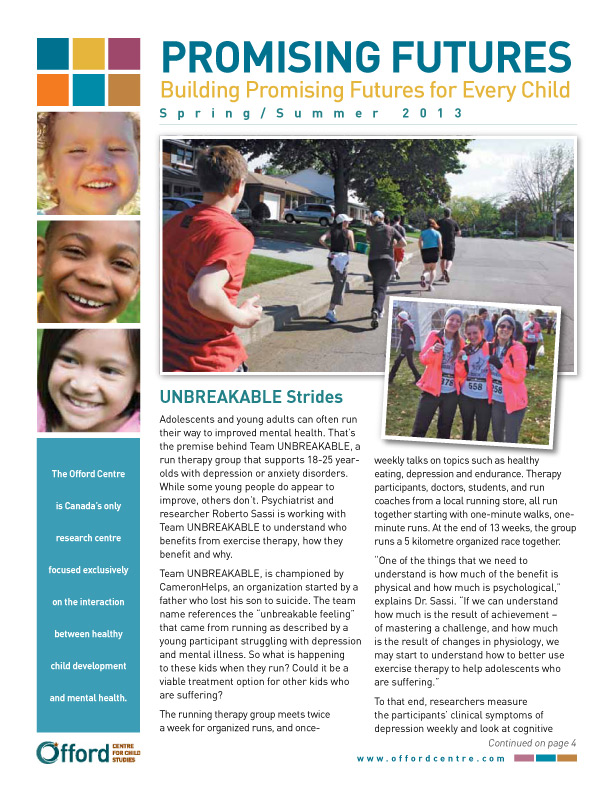 May 1, 2013
UNBREAKABLE Strides
Adolescents and young adults can often run their way to improved mental health. That's the premise behind Team UNBREAKABLE, a run therapy group that supports 18-25 year- olds with depression or anxiety disorders. While some young people do appear to improve, others don't. Psychiatrist and researcher Roberto Sassi is working with Team UNBREAKABLE to understand who benefits from exercise therapy, how they benefit and why.
Team UNBREAKABLE, is championed by CameronHelps, an organization started by a father who lost his son to suicide. The team name references the "unbreakable feeling" that came from running as described by a young participant struggling with depression and mental illness. So what is happening to these kids when they run? Could it be a viable treatment option for other kids who are suffering?
The running therapy group meets twice a week for organized runs, and once-weekly talks on topics such as healthy eating, depression and endurance. Therapy participants, doctors, students, and run coaches from a local running store, all run together starting with one-minute walks, one- minute runs. At the end of 13 weeks, the group runs a 5 kilometre organized race together.
"One of the things that we need to understand is how much of the benefit is physical and how much is psychological," explains Dr. Sassi. "If we can understand how much is the result of achievement – of mastering a challenge, and how much is the result of changes in physiology, we may start to understand how to better use exercise therapy to help adolescents who are suffering."
To that end, researchers measure the participants' clinical symptoms of depression weekly and look at cognitive differences in factors such as focus and mood, before and after the exercise. Research participants also have blood drawn at the beginning and the end of the program so researchers can look for changes in oxidative stress, inflammation and the protective protein BDNF or brain- derived neurotrophic factor.
Depressed people have abnormal markers for inflammation and lower levels of BDNF. "There is very strong evidence that BDNF increases with exercise," explains Dr. Sassi. In theory this improves cognitive function, but is that what is happening here or is it something else?" There are still a lot of questions to be answered.
In the future Dr. Sassi and his fellow researchers hope to apply for a larger grant, which would enable them to add a control group to the study.
The next running therapy group, the fourth in this small pilot study, will begin in late August 2013. Participants, aged 16-25, will be screened by the research team for a primary diagnosis of a mood or anxiety disorder. Clinicians wishing to refer participants can contact Dr. Sassi directly at
Categorised in: