Andrea Gonzalez
Associate Professor, Psychiatry & Behavioural Neurosciences
Associate Member, Clinical Epidemiology & Biostatistics
Member of McMaster Neuroscience Graduate Program
---
Dr. Gonzalez received her PhD (2008) in Psychology and Neuroscience from the University of Toronto and recently completed her CIHR- and Lawson Foundation-funded postdoctoral fellowships at the Offord Centre for Child Studies under the mentorship of Drs. Harriet MacMillan, Michael Boyle and Louis Schmidt. Dr. Gonzalez's current research focus is to understand the mechanisms by which early experiences are transmitted across generations and how preventive interventions may affect this transmission. More specifically, she is interested in how biological, neuropsychological and psychosocial factors contribute to parenting processes and subsequent child developmental outcomes. She has received funding from SSHRC and CIHR and received a NARSAD New Investigator award. In 2013, she was awarded a CIHR Brain Star Award and is the 2014 recipient of the Canadian Psychological Association's New Researcher of the Year Award.
---
Current Activities
MEPP (Maternal Executive Processes & Parenting) Study

– a longitudinal study examining the impact of maternal cognitive function on parenting processes and infant cognitive and emotional development (funded by SSHRC)

Healthy Foundations Study

– an adjunct study of the British Columbia Healthy Connections Project (BCHCP), examining the impact of a preventive home visitation intervention – the Nurse Family Partnership, on biological outcomes in infants across the first two years of life (funded by CIHR)

Postpartum Depression Biological Study (PPD – BioStudy)

– examining biological factors (immune and stress system markers and oxytocin) in relation to postpartum depression and parenting processes in new mothers (funded by NARSAD)
---
Publications
Gonzales, A., Catherine, N., Boyle, M., Jack, S. M., Atkinson, L., Kobor, M.,... MacMillan, H. (2017). Healthy foundations study: a randomised controlled trial to evaluate biological embedding of early-life experiences. BMJ Open. doi: 10.1136/bmjopen-2017-018915
Nofech-Mozes, J., Pereira, J., Gonzales, A., & Atkinson, L. (2018). Cortisol secretion moderates the association between mother-infant attachment at 17 months and child behavior at age 5 years. Developmental Psychobiology, 61, 239-253. doi: 10.1002/dev.21799
Riederm A. D., Roth, S. L., Musyimi, C., Ndetei, D., Sassi, R. B., Mutiso, V.,... Gonzalez, A. (2019). Impact of maternal adverse childhood experiences on child socioemotonal function in rural Kenya: Mediating role of maternal mental health. Developmental Science. doi: 10.11111/desc.12833
Andrews, K., & Gonzalez, A. (2018). Contextual risk factors impacting the colonization and development of the intestinal microbiota: Implications for children in low- and middle-income countries. (2018). Developmental Psychobiology. doi: 10.1002/dev.21823
England-Mason, G., Casey, R., Ferro, M., MacMillan, H. L., Tonmyr, L., & Gonzalez, A. (2018). Child maltreatment and adult multimorbidity: results from the canadian community health survey. Canadian Journal of Public Health, 109, 561-572. doi: https://doi.org/10.17269/s41997-018-0069-y
Atkinson, L., Gonzalez, A., Basile, V., Maselis, M., Pereira, J., Chisholm, V.C. & Levitan, R. (2013). Maternal sensitivity and infant and mother adrenocortical function across challenges. Psychoneuroendocrinology, 38, 2943-2951 doi: 10.1016/j.psyneuen.2013.08.001.
Gonzalez, A., Boyle, M., Khu, H.H., Georgiades, K., Duncan, L., & MacMillan, H.L. (2012). Childhood influences on depression, chronic conditions and their comorbidity: findings from the Ontario Child Health Study. Journal of Psychiatric Research, 46(11), 1475-1482.
Gonzalez, A., Jenkins, J., Steiner, M., & Fleming, A.S. (2012). Neuropsychology and physiology as intervening variables between early life adversity and current maternal functioning. Journal of the American Academy of Child & Adolescent Psychiatry, 51(7), 673-682.
For further publications click here.
---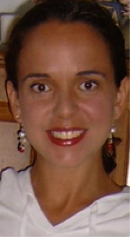 ---
Contact Andrea
Email:

Research Interests
Parenting processes and child developmental outcomes
Biological and executive functioning
Preventive interventions
---
Education, Memberships & Certifications
M.A., University of Toronto
Ph.D., University of Toronto
---
---