Andrea Gonzalez
Associate Professor, Psychiatry & Behavioural Neurosciences
Associate Member, Clinical Epidemiology & Biostatistics
Member of McMaster Neuroscience Graduate Program
---
Dr. Gonzalez' research program focuses on the developmental consequences of early life adversity; the impact of traumatic experience on brain development, behavioural outcomes and health; the intergenerational transmission of risk; and developing and evaluating evidence-based preventive interventions. Her previous training encompasses psychology, neuroscience and epidemiology with specific emphasis on assessing preventive interventions, stress physiology, parenting, and statistical modelling including structural equation modelling and hierarchical linear modelling. She holds a Tier 2 Canada Research Chair in Family Health and Preventive Interventions, and has been funded by the Canadian Institutes for Health Research, the Social Sciences and Humanities Research Council, and the Behavioral Brain Foundation.  She is the co-Principal Investigator on four randomized controlled trials assessing the effectiveness of preventive interventions with high risk populations of young families, the Nurse Family Partnership, the Family Check Up, SafeCare, and the Triple P (Positive Parenting Program) where she collects both behavioural and biological measures from mothers and their children (ages 0-6 years) within the context of evidence-based interventions.
---
Current Activities
CMAJOpen-2020-0064, "

Prevalence of adverse childhood experiences among individuals aged 45 to 85 years: a cross-sectional analysis of the Canadian Longitudinal Study on Aging

" www.cmajopen.ca

MEPP (Maternal Executive Processes & Parenting) Study

– a longitudinal study examining the impact of maternal cognitive function on parenting processes and infant cognitive and emotional development (funded by SSHRC)

Healthy Foundations Study

– an adjunct study of the British Columbia Healthy Connections Project (BCHCP), examining the impact of a preventive home visitation intervention – the Nurse Family Partnership, on biological outcomes in infants across the first two years of life (funded by CIHR)

Postpartum Depression Biological Study (PPD – BioStudy)

– examining biological factors (immune and stress system markers and oxytocin) in relation to postpartum depression and parenting processes in new mothers (funded by NARSAD)
---
Publications
Andrews K, Atkinson L, Harris M, Gonzalez A. Examining the effects of household chaos on child executive functions: A meta-analysis. Psychol Bull. 2021 Jan;147(1):16-32. doi: 10.1037/bul0000311. Epub 2020 Nov 5. PMID: 33151702.
Harris M, MacMillan H, Andrews K, Atkinson L, Kimber M, England-Mason G, Gonzalez A. Maternal adverse childhood experiences, executive function & emotional availability in mother-child dyads. Child Abuse Negl. 2021 Jan;111:104830. doi: 10.1016/j.chiabu.2020.104830. Epub 2020 Dec 8. PMID: 33307519.
Harris M, Andrews K, Gonzalez A, Prime H, Atkinson L. Technology-Assisted Parenting Interventions for Families Experiencing Social Disadvantage: a Meta-Analysis. Prev Sci. 2020 Jul;21(5):714-727. doi: 10.1007/s11121-020-01128-0. PMID: 32415543.
Prime H, Andrews K, McTavish J, Harris M, Janus M, Bennett T, Gonzalez A. The application of positive parenting interventions to academic school readiness: A scoping review. Child Care Health Dev. 2021 Jan;47(1):1-14. doi: 10.1111/cch.12810. Epub 2020 Oct 6. PMID: 32959921.
England-Mason G, Gonzalez A. Intervening to shape children's emotion regulation: A review of emotion socialization parenting programs for young children. Emotion. 2020 Feb;20(1):98-104. doi: 10.1037/emo0000638. PMID: 31961186.
Gonzalez A, Catherine N, Boyle M, Jack SM, Atkinson L, Kobor M, Sheehan D, Tonmyr L, Waddell C, MacMillan HL. Healthy Foundations Study: a randomised controlled trial to evaluate biological embedding of early-life experiences. BMJ Open. 2018 Jan 26;8(1):e018915. doi: 10.1136/bmjopen-2017-018915. PubMed PMID: 29374668; PubMed Central PMCID: PMC5829768.
Atkinson, L., Gonzalez, A., Basile, V., Maselis, M., Pereira, J., Chisholm, V.C. & Levitan, R. (2013). Maternal sensitivity and infant and mother adrenocortical function across challenges. Psychoneuroendocrinology, 38, 2943-2951 doi: 10.1016/j.psyneuen.2013.08.001.
Gonzalez, A., Jenkins, J., Steiner, M., & Fleming, A.S. (2012). Neuropsychology and physiology as intervening variables between early life adversity and current maternal functioning. Journal of the American Academy of Child & Adolescent Psychiatry, 51(7), 673-682.
For further publications click here.
---
Additional Information
Dr. Andrea Gonzalez's research team website can be found at www.strongfamilies.ca
---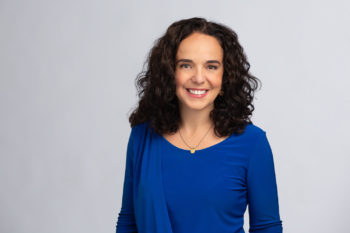 ---
Contact Andrea
Research Interests
Parenting processes and child developmental outcomes
Biological and executive functioning
Preventive interventions
---
Education, Memberships & Certifications
M.A., University of Toronto
Ph.D., University of Toronto
---
---