Harriet MacMillan
Distinguished University Professor, Psychiatry & Behavioural Neurosciences and Pediatrics
Chedoke Health Chair in Child Psychiatry
---
Harriet MacMillan is a psychiatrist and pediatrician conducting family violence research. She is a Distinguished University Professor in the Departments of Psychiatry and Behavioural Neurosciences, and Pediatrics at McMaster University with associate membership in the Department of Health Research Methods, Evidence, and Impact. Harriet holds the Chedoke Health Chair in Child Psychiatry.
Harriet's research focuses on the epidemiology of violence against children and women; she has led randomized controlled trials evaluating the effectiveness of approaches to preventing child maltreatment and intimate partner violence. Funding for this work has been provided by organizations such as the WT Grant Foundation, the Canadian Institutes of Health Research (CIHR), the Brain and Behavior Research Foundation, and the Centers for Disease Control and Prevention. Harriet is a co- principal investigator of the PreVAiL (Preventing Violence Across the Lifespan) Network, initially funded by CIHR and currently funded by the Public Health Agency of Canada. Through PreVAiL, Harriet works closely with organizations such as the World Health Organization (WHO).
From 1993 until 2004, Harriet was the founding Director of the Child Advocacy and Assessment Program (CAAP) at McMaster Children's Hospital, a multidisciplinary program committed to reducing the burden of suffering associated with family violence. She continues to see patients as an active staff member of CAAP and provides consultations to child protection agencies.
Harriet was appointed as a member of the Order of Canada in 2016.
---
Current Activities
Preventing Violence Across the Lifespan (PreVAiL) - an international Network of 60 researchers working in the areas of mental health, gender and violence, and 19 partner organizations such as the World Health Organization
Nurse Family Partnership Curriculum - a multi-site randomized controlled trial evaluating the effectiveness of an IPV curriculum embedded in the Nurse Family Partnership (NFP)
British Columbia Healthy Connections Project (BCHCP) - a province-wide randomized controlled trial of the NFP in BC to determine the program's effectiveness within the Canadian context (funded by the BC Ministry of Health and BC Ministry of Children and Family Development)
Healthy Foundations Study – an adjunct study of the BCHCP, examining the impact of a preventive home visitation intervention on biological outcomes in infants across the first two years of life (funded by CIHR)
---
Publications
MacMillan HL, Kimber M, Stewart DE. Intimate Partner Violence: Recognizing and Responding Safely. JAMA. 2020 Sep 22;324(12):1201-1202. doi: 10.1001/jama.2020.11322. PMID: 32960228.
Macmillan HL, Jack SM, Boyle M, McKee C, et al. Effect of Addition of an Intimate Partner Violence Intervention to a Nurse Home Visitation Program on Maternal Quality of Life: A Randomized Clinical Trial. JAMA. 2019;321(16):1576–1585. doi:10.1001/jama.2019.3211
Macmillan HL, Wathen CN, Barlow J, Fergusson DM, Leventhal JM, Taussig HN. Interventions to prevent child maltreatment and associated impairment. Lancet. 2009 Jan 17;373(9659):250-66. doi: 10.1016/S0140-6736(08)61708-0. Epub 2008 Dec 4. PMID: 19056113.
MacMillan HL, Wathen CN, Jamieson E, Boyle MH, Shannon HS, Ford-Gilboe M, Worster A, Lent B, Coben JH, Campbell JC, McNutt LA; McMaster Violence Against Women Research Group. Screening for intimate partner violence in health care settings: a randomized trial. JAMA 2009; 302:493-501.
MacMillan HL, Georgiades K, Duku E, Shea A, Steiner M, Niec A, Tanaka M, Gensey S, Spree S, Vella E, Walsh CA, De Bellis MD, Van der Meulen J, Boyle M, Schmidt, LA. Cortisol response to stress in female youths exposed to childhood maltreatment: Results of the Youth Mood Project. Biological Psychiatry 2009; 66:62-68
MacMillan HL, Thomas BH, Jamieson E, Walsh CA, Boyle MH, Shannon H, Gafni A. Effectiveness of home visitation by public-health nurses in prevention of the recurrence of child physical abuse and neglect: a randomized controlled trial. Lancet 2005; 365:1786-1793.
For further publications click here.
---
Additional Information
---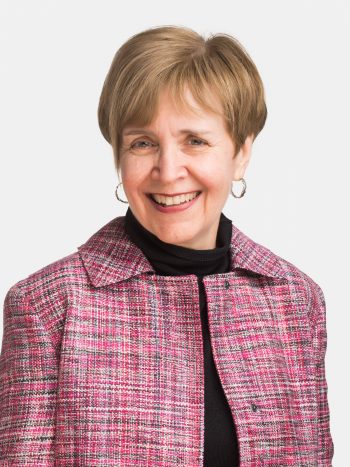 ---
Contact Harriet
Research Interests
Prevention of family violence
Epidemiology of child maltreatment and intimate partner violence
---
Education, Memberships & Certifications
M.Sc. in Clinical Epidemiology and Biostatistics, McMaster University
M.D., Queen's University
Residency training in Pediatrics at SickKids; Royal College Certification in Pediatrics
Residency training in Psychiatry at SickKids (Child), McMaster University (Adult); Royal College Certification in Psychiatry
Postgraduate fellowship training at Boston Children's Hospital and Harvard Medical School
---
---