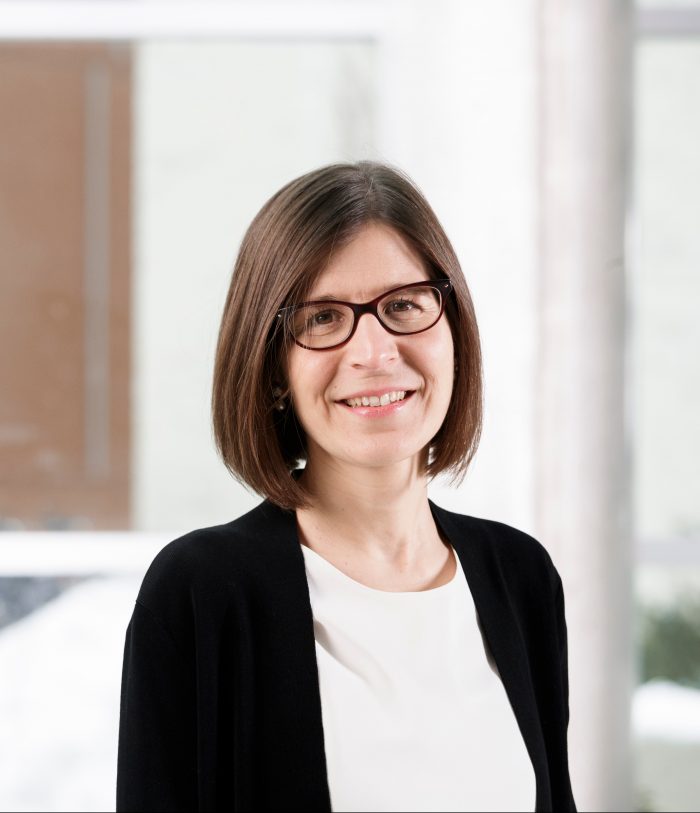 Dr. Kathy Georgiades is one of the Core Members of the Offord Centre for Child Studies. She is an Associate Professor in the Department of Psychiatry and Behavioural Neurosciences, and an Associate Member of the Department of Health Research Methods, Evidence, and Impact (HEI). Dr. Georgiades also holds the endowed David R. (Dan) Offord Chair in Child Studies.
Tell us about your research at the Offord Centre in layman terms.
Dr. Georgiades: My research seeks to improve childrens' mental health at a population level by identifying strategies to reduce social inequalities in mental health and access to effective mental health services and supports. It attempts to characterize disparities by determining how big the gaps are, what might be contributing to those gaps on a contextual level (family, school, community), and potential targets to narrow them. My research maintains a particular focus on immigrant and refugee children and the school context as an optimal setting for intervention efforts. Among children with a need for mental health support, not all access care. There's a disproportionate representation of certain populations that are far less likely to access mental health care, such as immigrant and refugee children. My research aims to understand why that is the case and what we can do about it. Hence, I am very interested in the school context and how schools can help address gaps in service access. How can we create schools that are equipped to promote mental health and to support students using effective, evaluated practices? How can schools facilitate access to needed care for children and youth with mental health concerns?
Why is this an important area to research?
Dr. Georgiades: We know that mental health difficulties are associated with functional challenges in terms of one's ability to excel at school, form stable relationships, and lead a productive life. The impacts of poor mental health are often long lasting and affect multiple domains of children's lives both in the moment and over the life course. It is therefore important to identify which children are more likely to be affected by these challenges and how social environments might serve to exacerbate or attenuate risk for these challenges. We also know that early intervention is important to try to change that trajectory. When we see certain populations being underserved, it perpetuates these gaps that exist not only in mental health, but in health more broadly. Hence, it is critically important to identify which children are at risk and ensure that those in need are not underserved. In that regard, schools may represent an effective setting for these efforts.
What are the potential implications of your research?
Dr. Georgiades: My program of work ultimately strives to improve mental health outcomes among children and youth by identifying strategies that can inform the development of interventions designed to reduce social inequalities in mental health and access to effective mental health care. Children and youth should have equal opportunities to live a life that's fulfilled and to reach their full potential. There is no reason for a child to have fewer opportunities because their family is economically disadvantaged or have immigrated to a new country. This research aims to narrow social disparities that ought to be addressed and should not exist in our society.
How has the Offord Centre helped support you as a Core Member?
Dr. Georgiades: I first came to the Offord Centre as a Postdoctoral Fellow and I had the opportunity to learn from senior mentors within The Centre and beyond. I also had the opportunity to develop my methodological skills in terms of analysis and research design. Over time, I had the good fortune to become a Core Member and a Faculty Member. I grew within the Offord Centre in many ways. I think the Offord Centre is a place that promotes creative and critical thinking. The Centre allows you to pursue your interests, ensuring that it is done in the most rigorous way possible. Colleagues are very open to discussing each other's research, which helps shape the work that we are doing, and these connections help keep us out of our isolated bubbles. The Offord Centre is linked to many partners and it's through this aspect that I began to establish relationships with schools, the Ontario Ministry of Education, and diverse stakeholders across the province to conduct provincial-scale research. The Offord Centre helps you enhance your research and enables you to make connections with community partners and policy stakeholders. As a result, your work has more potential to have greater impact.
What is the biggest misconception about your area of research?
Dr. Georgiades: One of the biggest misconceptions of my research is in the field of immigrant and refugee health. Many people assume that immigrants have poor health and that they use more health services or services in general. They assume immigrants are a drain to our system and our society more broadly. However, our research clearly documents elements of resilience among immigrant and refugee populations that we should not lose sight of. For example, some of our studies show that immigrant children have better mental health outcomes, when compared to non-immigrant children. At the same time however, we also demonstrate high levels of unmet mental health need in these populations. In other words, among children with an identified mental health need, immigrant children are far less likely to access needed mental health care, when compared to non-immigrant children. Unfortunately, there are many misconceptions about immigrant populations that are not supported by evidence. We need to work hard to address these misconceptions through the generation of rigorous and robust empirical evidence.
Tell us about why you chose your research area?
Dr. Georgiades: The interest in choosing my research area is a personal story. My PhD is in Clinical Psychology and my area of research at the time was adolescent depression. I was very interested in understanding how depressive episodes unfold over time amongst adolescents. My goal was to see if we could document the patterning or progression of illness, with respect to symptom presentation, which could ultimately inform early identification and intervention efforts. During this time, I was primarily focused on one condition, one developmental period, trying to understand the timing and patterning of specific depressive symptoms. After coming to the Offord Centre as a Postdoctoral Fellow, I worked with Dr. Michael Boyle, who was very interested in social disadvantage and understanding how poverty affects mental health. In the midst of all of this work, I wondered whether coming from an immigrant family might alter the experience, meaning and impact of poverty on children's mental health. Having been raised in a relatively poor immigrant family and community, I was struck by the resilience and support evident within these contexts. This led me to ask whether the negative effects of low income on developmental outcomes in children may be muted within certain populations and by certain social processes that are more likely to occur within them. In fact, a large body of epidemiological evidence provides support for the 'immigrant paradox' or otherwise known as the 'healthy immigrant effect' –a pattern of findings suggestive of better health outcomes among immigrant populations, despite increased exposure to socio-economic disadvantage.
As such, my program of research broadened at the Offord Centre, seeking to understand mechanisms of resilience and risk in immigrant populations.
When you were a kid, what did you want to be when you grew up and why?
Dr. Georgiades: When I began to think about careers, I wanted to be a teacher so I entered my undergraduate training in a combined major in Psychology and Child Studies at Brock University. My intention was to go on to Teacher's College afterwards. While at Brock, however, I had the opportunity to be involved in research and was fortunate to receive an undergraduate NSERC, summer scholarship to work in a sleep lab. My passion for research and the process of scientific inquiry was really sparked and I decided to pursue graduate training in Clinical Psychology instead.