Terry Bennett
Associate Professor, Psychiatry & Behavioural Neurosciences
---
Dr. Teresa (Terry) Bennett is a child psychiatrist at McMaster Children's Hospital, a core member of the Offord Centre for Child Studies and an Associate Professor in the Department of Psychiatry and Behavioural Neurosciences. The goal of Dr. Bennett's research is to address health inequalities by understanding the child-, family- and social factors that influence how children develop over time.  The ultimate aim is to deliver programs of care that are delivered more effectively in the right place and at the right time to help children's mental health and development get back on track.
Dr. Bennett is the Principal Investigator on Family Check-Up Canada: Making the Race Fair, a national multi-investigator  research initiative evaluating the "Family Check-Up" as a targeted prevention and early intervention program aimed at addressing childhood emotional and behaviour problems.   This is the first Canadian implementation and evaluation project of the Family Check-Up, an intervention developed and evaluated extensively in the U.S. and Europe.
Dr. Bennett is the former Co-Director (clinical lead) for the McMaster Autism Research Team (MacART), a partnership between McMaster Children's Hospital, Hamilton Health Sciences, and McMaster University that aims to bridge the research-to-practice gap in Autism Spectrum Disorder (ASD).  She now leads a MacART "pillar" in family-centred care. She is also a member of the Province of Ontario Neurodevelopmental Network (POND) and the McMaster lead investigator for the RILISE and TIDE multi-site randomized controlled trials of novel ASD medications. Dr. Bennett is also the McMaster co-lead investigator on the "Pathways Towards Better Outcomes in ASD" study, a national, longitudinal, multi site study of children and youth with ASD. This study is the world's largest cohort investigating contextual influences on the developmental health of children with ASD. She currently holds the Jack Laidlaw Chair in Patient-Centred Health Care (2020-2025).
---
Current Activities
---
Publications
Bennett, T. A., Szatmari, P., Georgiades, K., Hanna, S., Janus, M., Georgiades, S., ... & Mirenda, P. (2015). Do reciprocal associations exist between social and language pathways in preschoolers with autism spectrum disorders?.Journal of Child Psychology and Psychiatry, 56(8), 874-883.
Bennett, T.A., Szatmari, P., Georgiades, K., Hanna, S., Janus, M., Georgiades, S., Duku, E., Bryson, S., Fombonne, E., Smith, I.M., Mirenda, P., Volden, J., Waddell, C., Roberts, W., Vaillancourt, T., Zwaigenbaum, L., Elsabbagh, M., Thompson, A. & The Pathways in ASD Study Team. (2014). Language Impairment and Early Social Competence in Preschoolers with Autism Spectrum Disorders: A Comparison of DSM-5 Profiles, Journal of Autism and Developmental Disorders, in press.
Bennett, T., Szatmari, P., Bryson, S., Vaccarella, L., Duku, E., Tuff, L. (2013). Theory of Mind, Language and Adaptive Functioning in ASD: A Neuroconstructivist Approach. Canadian Journal of Child Psychiatry, 22,1, 13-9.
For further publications click here.
---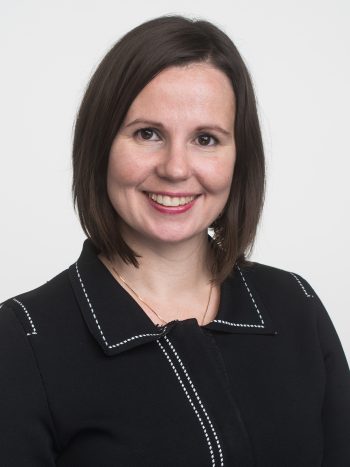 ---
Contact Terry
Research Interests
Preschool mental health
Prevention and early childhood mental health intervention
Autism Spectrum Disorder (ASD)
Family-centered intervention
Neurodevelopmental disabilities
Translational research- decreasing the research to clinical practice gap
---
Education, Memberships & Certifications
B.A.Sc (Hon.), McMaster University
M.D., Michael DeGroote School of Medicine at McMaster University
FRCPC: McMaster University, Department of Psychiatry and Behavioural Neurosciences
Ph.D., Clinical Epidemiology and Biostatistics, Health Research Methodology Programme, McMaster
Clinical Investigators' Programme, McMaster Faculty of Health Sciences
PSI Mental Health Knowledge Translation Fellowship
The Jack Laidlaw Chair in Patient-Centred Health Care (2020-2025)
---
---