Study Information
A teacher-completed instrument called the Early Development Instrument (EDI) was developed at the Offord Centre for Child Studies at McMaster University to measure children's ability to meet age appropriate developmental expectation at school entry. The Early Development Instrument (EDI) measures children's developmental health at school entry by asking questions covering five different areas of their early development:
Physical Health & Well-Being - includes gross and fine motor skills - e.g., holding a pencil, running on the playground, motor coordination, and adequate energy levels for classroom activities.
Social Competence - includes curiosity about the world, eagerness to try new experiences, knowledge of standards of acceptable behaviour in a public place, ability to control own behaviour, cooperation with others, following rules, and ability to play and work with other children.
Emotional Maturity - includes ability to reflect before acting, a balance between too fearful and too impulsive, and ability to deal with feelings at the age appropriate level, and empathic response to other people's feelings.
Language and Cognitive Development - includes reading awareness, age appropriate reading, writing and numeracy skills, board games, and ability to understand similarities and differences, and to recite back specific pieces of information from memory.
Communication Skills and General Knowledge - includes skills to communicate needs and wants in socially appropriate ways, symbolic use of language, story-telling, and age appropriate knowledge about the life and world around.
The EDI was finalized in 2000 in Ontario and has since become a population-level research tool utilized to various degrees in all Canadian provinces and territories.  By the end of 2014, British Columbia, Alberta, Saskatchewan, Manitoba, Ontario, Quebec, Newfoundland and Labrador, Prince Edward Island, New Brunswick, Nova Scotia, Yukon, and Northwest Territories will have collected data at the provincial/territorial-level at least once and Nunavut will have collected data on some of their children.  Most provinces continue to implement the EDI on a regular basis, with many collecting data every other year.  At an international level, many countries have also implemented the EDI.
Current findings from the administration of EDI in Canada show that in most jurisdictions 25% or more of children entering kindergarten are vulnerable in at least one aspect of their development.  Further research linking EDI findings to later educational data demonstrate that, on average, kindergarten vulnerability predicts ongoing vulnerability in the school system.  Numerous studies have shown that early vulnerability predicts much about a person's lifelong health, learning and behaviour.
The Early Development project focuses on the outcomes for children as a health-relevant, measurable concept that has long-term consequences for individual outcomes and population health.  The data derived from the collection of the EDI facilitate and encourage community, provincial, national and international monitoring of the developmental health of our young learners.
The EDI is designed to be a tool to increase the mobilization of communities and policy makers in order to bring a positive impact on children's development in their local areas.  Understanding the state of children's development at the level of the population – that is, for all children – is foundational to mobilizing stakeholders towards change.
---
Funding & Support
Provinces of BC, Alberta, Saskatchewan, Manitoba, Ontario, Quebec, New Brunswick, Newfoundland and Labrador, Nova Scotia, Prince Edward Island; Territories of Yukon and Northwest Territories
---
Team Members
Principal Investigator – Dr. Magdalena Janus
Project Manager – Ashley Gaskin
Statistician – Eric Duku
GIS Analyst – Rob Raos
Research Assistants – Pauline DeRosa; Amanda Offord; Caroline Reid-Westoby; Matt Horner
Primary Contact: Ashley Gaskin at 905 525 9140 ext. 21469 ()
---
External Links
For further information on the EDI, please explore the EDI website.
---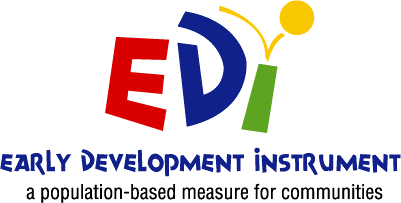 ---
Study Period: Ongoing
---
---